Melbourne, 4th June 2019—InStitchu Press Release—Australian custom, tailored menswear brand, InStitchu, has today announced the opening of its second Showroom in Melbourne on Little Collins Street in Melbourne's CBD, bringing its total Showroom count to 11.
Founded by Australians Robin McGowan and James Wakefield in 2012, InStitchu helps men design their own custom, made-to-measure suits and shirts in minutes, at an affordable price and without compromising on quality. InStitchu use world-leading technology and premium fabrics including Woolmark certified 100% Australian Merino wool to create their customer's garments. A growing demand for personalisation and variety puts InStitchu in good stead, as they ensure perfectly fitted garments, unique custom detailing and freedom of choice on everything from buttons to pockets, fabrics and more.
Co-Founder James Wakefield is excited to bring the technical innovation InStitchu has built its brand on to the iconic shopping destination.
"We're really proud to continue to grow our footprint with this new Showroom, which is our 11th across Australia and the United States. Our mix of new-world retail innovation and old-world tailoring is unique in the market, and we're thrilled that demand has encouraged us to invest in another physical location in Melbourne. It's particularly gratifying to be able to open in the beloved up-market shopping precinct of Little Collins Street and be able to service the menswear savvy communities of Melbourne."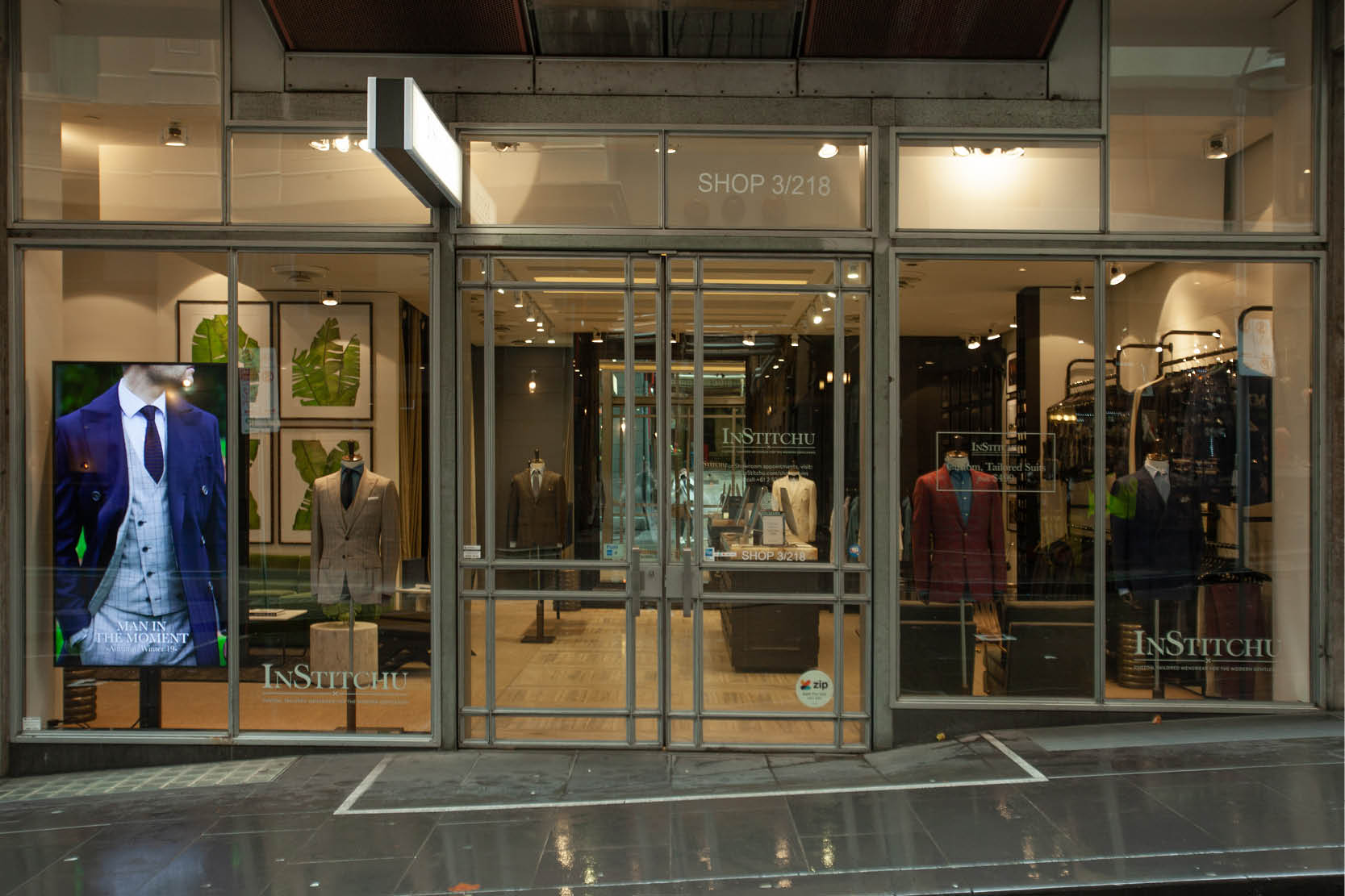 The opening marks the brand's 11th Showroom and second Melbourne Showroom—this time with street frontage. The Showroom features impressive technology for customers to use to design their garments on, deep green velvet lounges, marble benchtops and their signature old-world tailoring aesthetic, where customers can enjoy a whisky, peruse fabrics, design their garments and be measured by a Stylist in a gentleman's oasis
Co-Founder Robin McGowan says the new Showroom is an exciting new chapter for the brand: "Melbourne, and particularly the thriving hub around Little Collins Street, is the spiritual home of fashion in Australia. It's humbling to join that story and open our second Melbourne Showroom, this one with street frontage, in this bustling cosmopolitan area, neighbouring so many of the world's most innovative and sophisticated designers."
The new Showroom, Robin says, is another way for tech-savvy lovers of menswear to get up close and personal with the brand and their signature old-world tailoring experience with a modern twist: "While a lot of our sales are online, it's clear that many of our customers appreciate the ability to come in for a personal fitting under the guidance of our expert Stylists."
The Showroom is now open for appointments and drop-ins and will take individual, wedding party and group bookings. Every order is placed through the InStitchu online e-commerce store InStitchu.com and is covered by InStitchu's Perfect Fit Guarantee.


About InStitchu
InStitchu is an Australian owned and operated custom, tailored menswear brand, founded in 2012 by Co-Founders and high school friends James Wakefield and Robin McGowan.
The concept of InStitchu is special—bridging the gap between technology and traditional retail, InStitchu has an omni-channel business model where customers can choose to design custom, tailored garments online at InStitchu.com or at one of InStitchu's Showrooms.
Headquartered in Sydney, InStitchu currently has 11 Showrooms across Sydney, Melbourne, Brisbane, Perth, Adelaide, Canberra and New York City, with a view to expand further this year.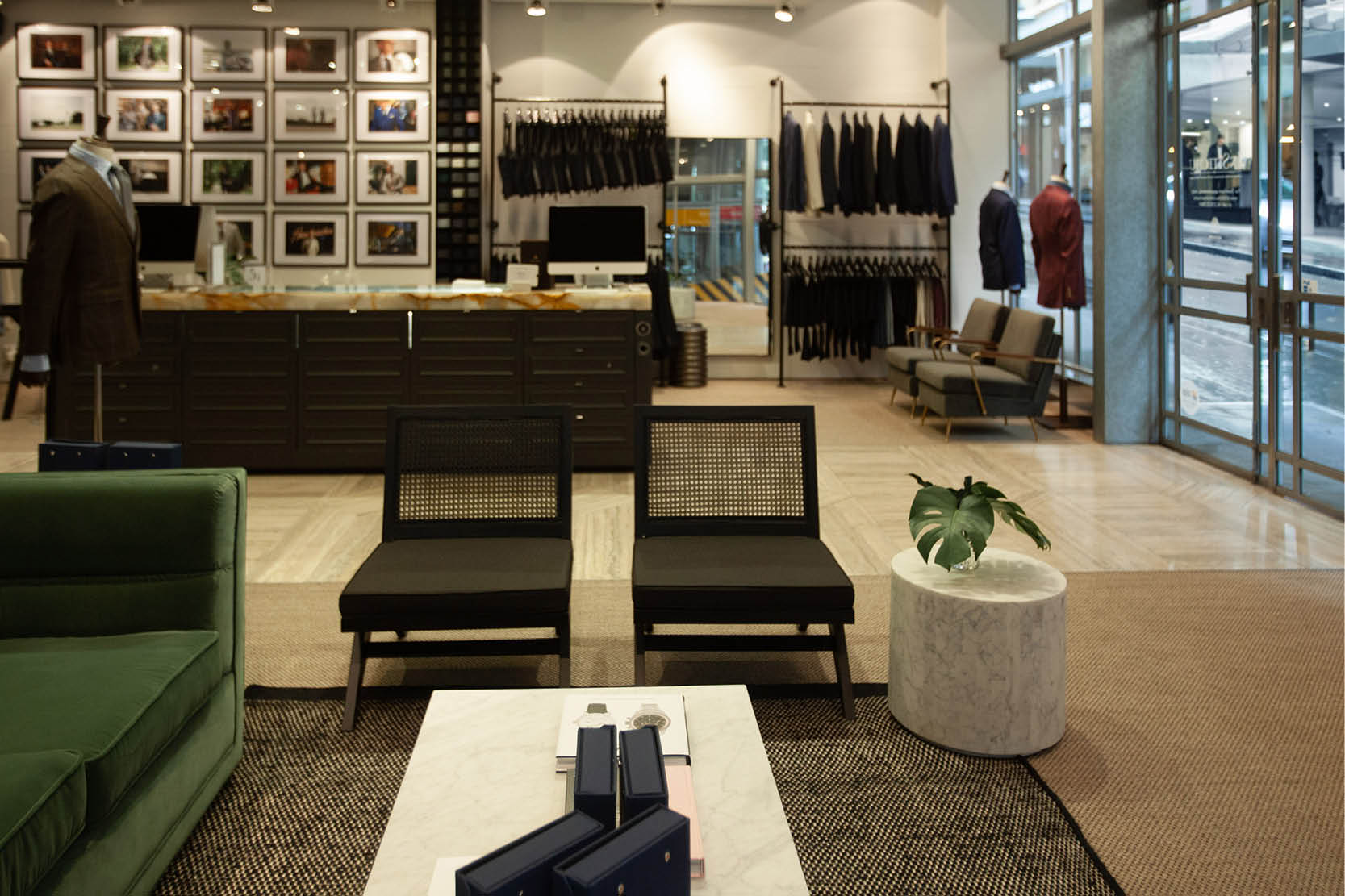 InStitchu's Showrooms act an extension of the website and aim to transport customers back into the realms of old-world tailoring, as they sip on a glass of whisky whilst perusing fabrics, getting measured and designing their garment with their dedicated Stylist. While in-person fittings are not required, customers can come in for a personalised fitting if they wish and then conveniently re-order online next time, with all their measurements and past orders saved to their InStitchu online profile.
With a combination of world-leading technology, the best natural fibre fabrics (including Woolmark certified 100% Australian Merino wool, cashmere, mohair, linen and cotton) and premium customer service, InStitchu brings customers the highest quality garments at great value.
Every order is placed through the InStitchu online e-commerce store InStitchu.com and all orders are covered by InStitchu's Perfect Fit Guarantee—whereby if a customer's garment is not perfectly fitted they will alter or remake their garment, ensuring that the purchasing process is completely risk-free.
For more information, please contact:
James Wakefield
P: +61 402 967 341
E: james.wakefield@InStitchu.com